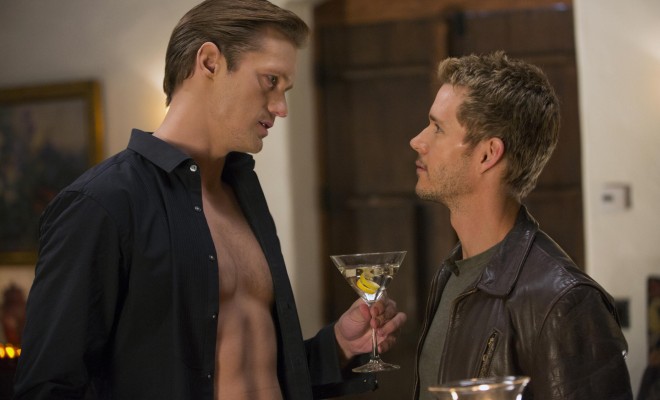 Alexander Skarsgard Says Ryan Kwanten is Best Kisser
|
True Blood alum Alexander Skarsgard is making the rounds promoting The Legend of Tarzan, due in theaters July 1. Normally this involves answering the same questions over and over, but the precocious team at The Project for Channel 10 in Australia decided to get personal, and Alex was up to the challenge.
In their interview with Alex, The Project queried him about what food he splurged on after wrapping Tarzan and injuries sustained while filming a rough and tumble love scene with co-star Margot Robbie (Jane). Margot is an Australian, which prompted a question about which Aussie is the better kisser – Margot or Ryan Kwanten. True Blood fans ought to remember that steamy sex dream Jason had about Eric after receiving the vampire's blood.
Clever Alex noted that he also smooched Aussie Nicole Kidman in the upcoming HBO miniseries Big Little Lies before declaring that of the three, Ryan is the better kisser. Alex, you troublemaker!
Here's an excerpt from the interview via The Daily Mail. Watch the entire interview on Facebook here (it's not embeddable and the original from Channel 10 is geo-blocked).