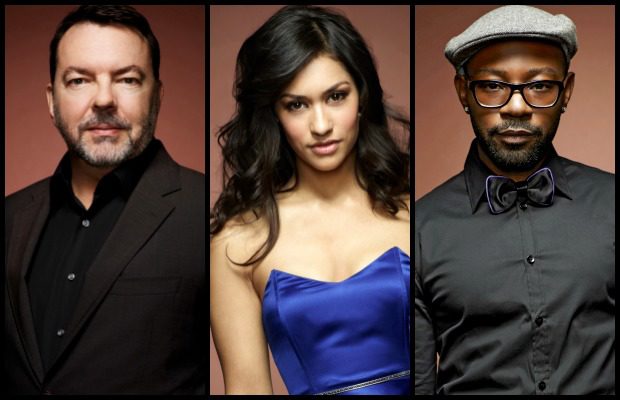 Nelsan Ellis, Janina Gavankar, Alan Ball Land New Projects
|
Time for another True Blood alumni round up! Several of our favorite Truebies have announced new projects recently, and we're excited to be seeing them on our screens again.
Nelsan Ellis will appear in at least three episodes of CBS' Elementary when it returns this fall, according to EW. He'll play Shinwell Johnson, a character from Sir Arthur Conan Doyle's 1924 short story "The Adventure of the Illustrious Client". Like Sherlock, Shinwell has a past connected to drugs – he was a dealer whereas Sherlock is an addict. After getting out of prison, Shinwell reconnects with Joan Watson who operated on him once upon a time, providing tips for a murder investigation. Nelsan makes his debut in the season premiere on Sunday, October 2 at 10/9c on CBS.
Janina Gavankar is bouncing back from the canceled Mysteries of Laura quickly! Deadline reports that she'll take over the female lead in FOX's retooled Sleepy Hollow when it returns mid-season. At the end of season three, the show killed off Det. Abbie Mills, played by Nicole Beharie, in a shocking twist. But Tom Mison's Ichabod Crane won't be without an investigative partner for long – Janina will play Diana, a single mom and former military officer who's currently a Special Agent for Homeland Security. She's described a tough, no-nonsense professional who shows a softer side when she's with her daughter. Sound familiar? Sleepy Hollow is set to return in early 2017 on FOX.
Alan Ball returns to HBO with his latest project, a family drama focuses on a contemporary multi-racial family: a philosophy professor, his lawyer wife, their three adopted children from Somalia, Vietnam and Colombia, and their sole biological child. The currently untitled project is described as "a tragicomic meditation on the complicated forces at work on us all in America today." Alan also has The Immortal Life of Henrietta Lacks set to debut on HBO in 2017.