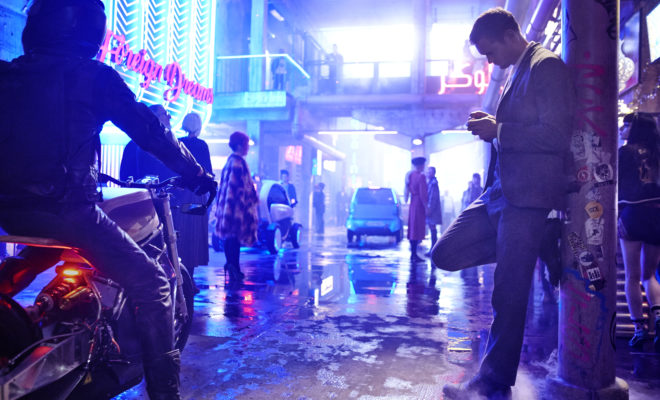 Alexander Skarsgard Is Mute, Janina Gavankar Travels to Sleepy Hollow + More Cast News
|
It's been a while since we checked in with True Blood alumni, so let's remedy that, shall we?
Alexander Skarsgard
Alex is taking over our screens this year! First up is War on Everyone, the action comedy co-starring Alex and Michael Pena. The movie lands in theaters February 3 or you can watch it on demand now if you have DirecTV. ComingSoon.net has an exclusive – R-rated – clip to whet your appetite. Click here to watch.
War on Everyone follows two corrupt cops in New Mexico who set out to blackmail and frame every criminal unfortunate enough to cross their path. Things take a sinister turn, however, when they try to intimidate someone who is more dangerous than they are. Or is he?
Alex returns to HBO when Big Little Lies premieres in True Blood's old timeslot – Sunday, February 18 at 9/8c. Alex has a supporting role as the husband of Nicole Kidman's character in this limited series about a murder in a seemingly perfect neighborhood.
Alex also co-stars with Paul Rudd (Ant Man! Phoebe Buffay's husband!) in the Netflix sci-fi thriller Mute, coming to the streaming service later this year.
Set in the near-future, Leo (Alexander Skarsgård) is a bartender living in the pulsing city of Berlin. Because of a childhood accident, Leo lost the ability to speak and the only good thing in his life is his beautiful girlfriend Naadirah (Seyneb Saleh). When she vanishes without a trace, Leo's search for her takes him deep into the city's seedy underbelly. A pair of wise-cracking American surgeons (Paul Rudd and Justin Theroux) are the only recurring clue and Leo is forced to take on this teeming underworld in order to find his love.
Janina Gavankar
Janina joined season 4 of Sleepy Hollow (FOX) when the revamped series premiered last week. She is the new co-lead, starring as Special Agent Diana Thomas opposite Tom Mison's Ichabod Crane. The series airs Fridays at 9/8c on FOX, with previous seasons available streaming and on demand.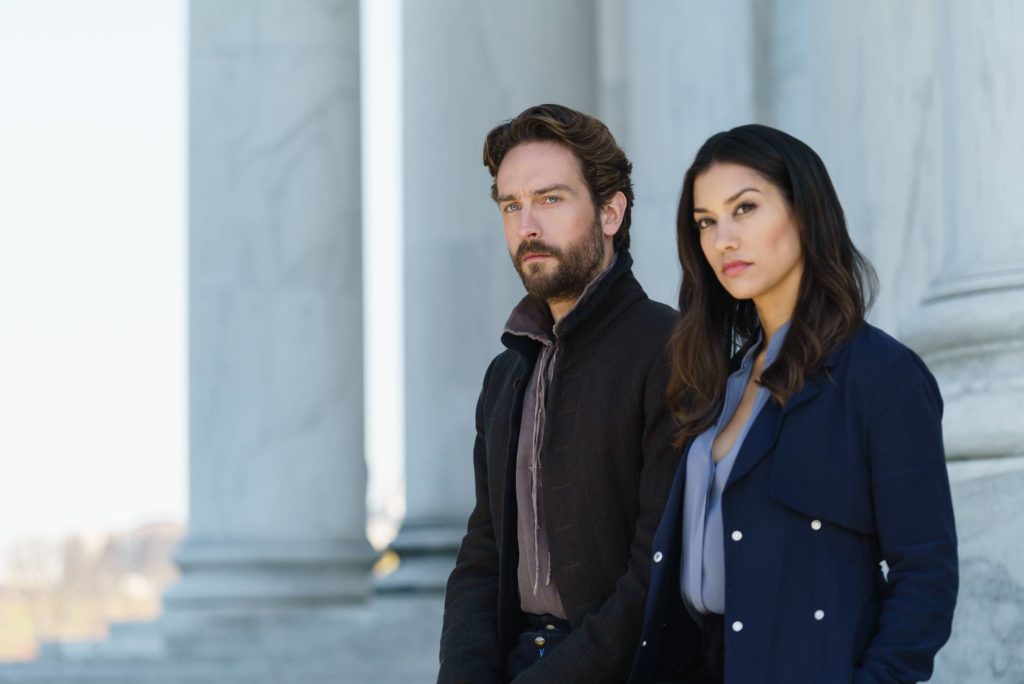 Stephen Moyer
Stephen has been working steadily and we should start seeing those projects on our screens soon. He co-stars in Shots Fired, a 10-episode limited series for FOX, alongside Sanaa Lathan, Stephan James, Helen Hunt, Richard Dreyfuss. Stephen plays Lt. Breeland, a police officer in a small Southern town rocked by two racially-charged shootings.
When Joshua Beck, an African-American Sheriff's deputy, kills an unarmed white college student, a small town in North Carolina is turned upside-down. Before the town has a chance to grapple with this tragedy, the neglected murder of an African-American teen is brought to light, opening wounds that threaten to tear the community apart.
Shots Fired premieres Wednesday, March 22 at 8/7c on FOX.
Last autumn, Stephen filmed four episodes of the ITV series Safe House. He stars as ex-police officer Tom Brook, who now runs a police safe house on the edge of the Anglesey coastline.
Tom and his partner Sam (Zoe Tapper)'s lives are changed forever when a shocking crime occurs. Years before, Tom had investigated a series of abductions by an unknown criminal known as 'The Crow', who took wives away from husbands as they helplessly watched on in horror. On hearing news of a crime bearing the same hallmarks, Tom immediately goes to the scene, revealing to the police that he believes 'The Crow' is active again.
We don't have a premiere date as yet, but rumor has it Safe House will air in 2017.
Stephen also co-stars in The Hatton Garden Job, a movie about the Hatton Garden (UK) heist, which took place in April 2015 and saw four men use a drill to bore their way into the vault wall, before stealing 73 boxes containing gold, diamonds and sapphires. The movie also stars Larry Lamb, Joely Richardson, Matthew Goode and Clive Russell. The movie is due to be in theaters in 2017, but we don't have a more exact release date yet. A very brief teaser is available at Yahoo UK.
Anna Paquin
Anna filmed two mini-series/limited series last year, both of which are still light on details about when we'll see them. Bellevue is a Canadian mini-series that follows Anna's character, Detective Annie Ryder, a cop with a brazen personality who investigates the disappearance of a transgender teen in a small, blue collar town. Shawn Doyle  and Allen Leech co-star as her boss and ex-boyfriend, respectively. Filming is complete and the series is expected to premiere in late 2017 on CBC.
Anna also stars in Alias Grace, a CBC/Netflix miniseries based on the Margaret Atwood novel of the same name. The novel itself was inspired by the historical true story of convicted murderer Grace Marks. Anna plays Nancy Montgomery, the housekeeper/lover of Thomas Kinnear who ends up brutally murdered by her rival, Grace Marks (played by Sarah Gadon). A release date has not yet been announced, although it seems likely we'll see it this year.
Sam Trammell
Sam's first appearance in This Is Us happened in November, but he's set to recur throughout the season – and possibly beyond, given the success of the show. He's guest starring as Ben, the front man of a band Rebecca (Mandy Moore) used to sing with before becoming a mother. So far he's appeared in flashbacks to when the triplets were young and Rebecca joined the band for "one more show". Given the chemistry between the two characters, I suspect we'll be seeing more of this storyline.
Quick Hits
Carrie Preston will reprise the role of Elsbeth Tascioni in The Good Fight, CBS' digital spin-off from The Good Wife, premiering Sunday, February 19 on CBS before moving exclusively to streaming service CBS All Access.
Denis O'Hare will also appear in The Good Fight, reprising his role as Judge Abernathy. Denis has a recurring role in NBC's This Is Us and co-stars in the gay rights mini-series When We Rise, premiering February 27 on ABC.
Todd Lowe can be seen as Zach, the first role we ever saw him in, in Netflix's Gilmore Girls: A Year in the Life.