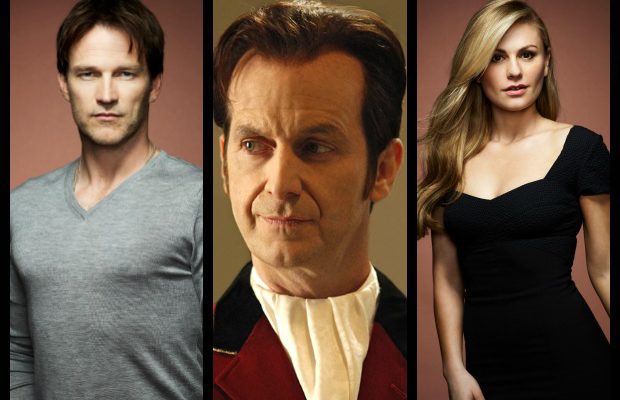 Stephen Moyer, Anna Paquin, Denis O'Hare Reunite for 'The Parting Glass'
|
We have another post-True Blood career update today, featuring not one, not two, but three True Blood alumni!
Deadline broke the news today that Stephen Moyer, Anna Paquin, and Denis O'Hare will reunite for feature film The Parting Glass. Stephen will step behind the camera to direct the script, written by Denis, with Anna as the lead co-starring with Denis, Melissa Leo, Cynthia Nixon, Ed Asner, Rhys Ifans and Paul Gross.
The Parting Glass, a drama, follows a family reeling with their sister's death. As they embark on a journey to collect the remnants of her life, family members delve into past memories to piece together a portrait of the woman they lost. Production begins momentarily in Toronto.
How cool is this? The three of them have obviously remained close since True Blood and apparently formed a mutual admiration society. Can't wait to see what comes from this collaboration!
Also of note in True Blood alumni news: CBS announced this week that James Frain (aka Franklin "Speed Texter" Mott) has been cast as Sarek in the upcoming Star Trek: Discovery. As a Trekker and a fan of James Frain, I'm pretty excited about this news.