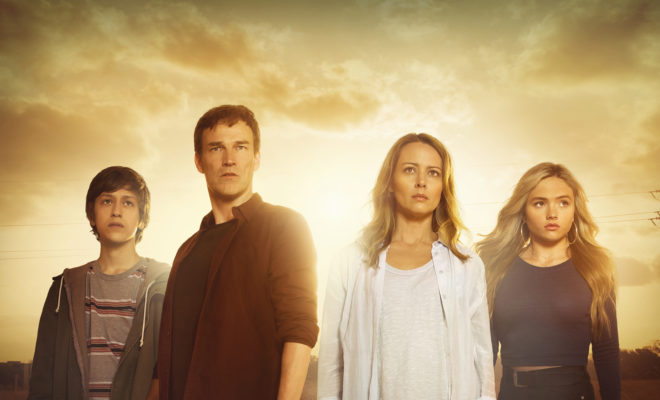 Atlanta Screening of 'The Gifted' with Stephen Moyer
|
On Thursday September 28th, I was lucky to attend the Fox Fall TV event in Atlanta with advanced screenings of The Gifted and Ghosted with cast members from The Gifted (some came directly from filming). Prior to the screening, cast members Stephen Moyer (You all know who he is…Vampire Bill) Natalie Alyn Lind ("The Goldberg's"), Emma Dumont ("Aquarius"), Amy Acker ("Person of Interest"), Jamie Chung ("Once Upon a Time"), and Percy Hynes-White ("First Round Down") discussed their roles on the show with Atlanta FOX 5 News Edge Anchor Tom Haynes.
When asked about filming in Atlanta, the cast all agreed they like the southern hospitality, people, and the restaurants (we have some delicious food here). The one thing they said totally sucks is the traffic and I have to agree with them!
Stephen said they were all excited because they hadn't seen the show yet and would be watching it with us for the first time. He said, "So forgive us if we grimace at ourselves on the big screen." The cast joined the audience and the lights dimmed. It was exciting!
To give you brief synopsis of the show, The Gifted (in association with Marvel TV) takes place in the X-Men universe, and is about a suburban family whose lives are changed forever once the parents discover that their children possess mutant powers.  The family joins an underground network of Mutants when they were forced to go on the run from the government. It is an exciting show and is going to be a huge hit! The crowd in Atlanta cheered throughout the episode and loved it (so did the cast).
Now the best part! after the screening, I got to meet Stephen Moyer and chat with him. He first wanted to thank all the True Blood fans for the support over the years. He loves Truebies (and we love him back)! He asked what I thought of the screening and I said, "It was amazing and I'm all in!" He laughed and said with that beautiful accent of his, "Wasn't it great? I am so happy with it. I can't wait for fans to see it." He was awesome! Even though the cast was heading out he stayed back to chat and take a picture. Thank you Stephen!
The pilot episode is amazing! It had great characters that are very believable in these unique circumstances, movie quality special effects and leaves you wanting more. Dare I say I think it is the best Marvel television show! You will not be disappointed.
So Truebies you know what to do. Set those DVR's and tune in to the premiere of The Gifted on Monday, October 2nd at 9/8c. You can also keep up with the show on twitter @TheGiftedonFOX #MutantsUnite