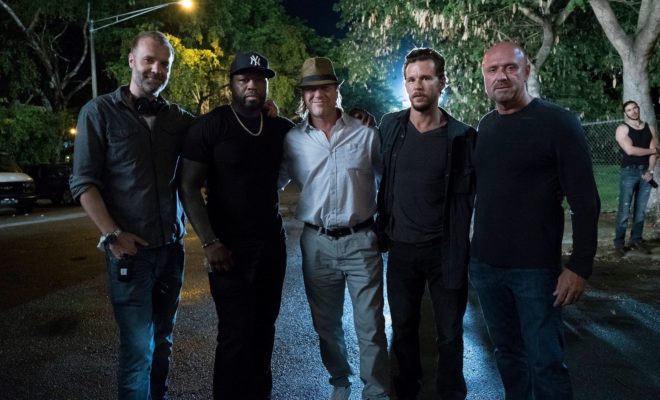 Ryan Kwanten takes 'The Oath', Kristin Bauer researches 'Lore' & more True Blood cast updates
|
We did a round of True Blood cast updates a month ago, but there's still more news to share! Check out what more of the cast and creative team are up to now.
Nathan Barr
True Blood composer Nathan Barr is the man behind the music in Flatliners, the reboot of the 1990 thriller that starred Julia Roberts. Nathan gave a couple of interviews ahead of the film's release where he talks about having less than a month to complete the score, working with Hans Zimmer and growing up in Japan.
Nathan also just completed scoring the first season of AMC's The Son starring Pierce Brosnan and is working on the fifth season of FX's The Americans.
Kristin Bauer van Straten
Kristin co-stars in Lore, the creepy new series from Amazon based on Aaron Mahnke's creepy podcast of the same name. The series brings to life stories from the podcast and uncovers the real-life events that spawned our darkest nightmares. Blending dramatic scenes, animation, archive and narration, Lore reveals how our horror legends – such as vampires, werewolves and body snatchers – are rooted in truth. Kristin's episode examines the unnerving history between humans and dolls.
Robert Patrick also co-stars in Lore, although in a different episode than Kristin's. Lore begins streaming on Amazon on Friday, October 13, 2017.
Janina Gavankar
In a five-minute trailer for action game Star Wars Battlefront II, John Boyega takes viewers on a whirlwind tour of the game's main modes. Among the goodies revealed to gamers is a standalone solo mission set between Star Wars Episodes VI and VII that has players become Iden Versio, played by Janina Gavankar. Versio is a Commander within the Galactic Empire who leads her elite special forces unit in pursuit of Luke Skywalker and his Rebellion accomplices.
Star Wars Battlefront II will be available on PlayStation 4, Xbox One, and PC on November 17, 2017.
Ryan Kwanten
Ryan is adding another line item to his CV – producer. Crackle announced that Ryan will co-star in and produce the The Oath, a 10-episode original drama coming to the streaming service in 2018. Ryan co-stars opposite Sean Bean and plays Steve Hammond, son of Tom Hammond (Bean) and the leader of a cop gang, The Ravens. A cool, pragmatic, reluctant leader with the mind and instincts of a shrewd tactician, Hammond is a survivor–a natural protector who values taking care of those closest to him, his family, his team.
In addition to The Oath, Ryan has two films coming up: Supercon, a heist comedy co-starring John Malkovich and Maggie Grace that pokes fun at the pop culture convention circuit, and Category 5, a team of tech hackers embarking on a $600 million robbery from a coastal U.S. Mint facility the same time a disastrous Category 5 storm is set to strike also co-starring Maggie Grace.
Anna Paquin
It was announced last week that Anna has joined the cast of Martin Scorsese's next film, The Irishman. Anna will play Peggy, the strong-willed daughter of Frank "The Irishman" Sheeran, a reputed hitman suspected of involvement in the 1975 disappearance of Teamsters leader Jimmy Hoffa. Robert De Niro plays her father, the titular Irishman.
We'll also see Anna in Amazon's new original series Philip K. Dick's Electric Dreams, is a 10-episode sci-fi anthology series based on the work of the legendary author, Philip K. Dick. Each episode is a standalone story, more like a series of movies than a TV series. Electric Dreams has already debuted in the UK, and will arrive in the United States sometime in 2018.
Jim Parrack
The trailer for the film The Heyday of the Insensitive Bastards dropped recently, and among the enormous cast is our own Jim Parrack opposite Natalie Portman! Based on Robert Boswell's critically-acclaimed stories, the film is an interconnected series of stories that exploreambition, love, loss, and memory.
This autumn, Jim will appear off-Broadway in the play What We're Up Against, a "darkly funny and all-too-relevant comedy of gender politics." Krysta Rodriguez stars with Skylar Astin (who is married to fellow True Blood alum Anna Camp) co-starring. The four-week limited engagement begins October 28, with an opening night set for November 8. The play will run through November 26 at WP Theater (2162 Broadway). Tickets are on sale now via WPTheater.org/tickets, or by calling (212) 765-1706.
Adina Porter
Adina returns to American Horror Story this season, playing a reporter named Beverly Hope. In an interview with Zimbio, she teased that this season of the series, Cult, is more of "a mind game" than previous iterations.
Jessica Tuck
Jessica returned to her soap opera roots in September with a role on General Hospital.
Rutina Wesley
The second season of Queen Sugar returned to OWN last week, co-starring Rutina as Nova Bordelon, one of three siblings fighting to save the family sugar cane farm. In an interview with the Chicago Sun-Times, Rutina discussed portraying the tattooed, pierced journalist/community activist as "a woman who is comfortable in her own skin."