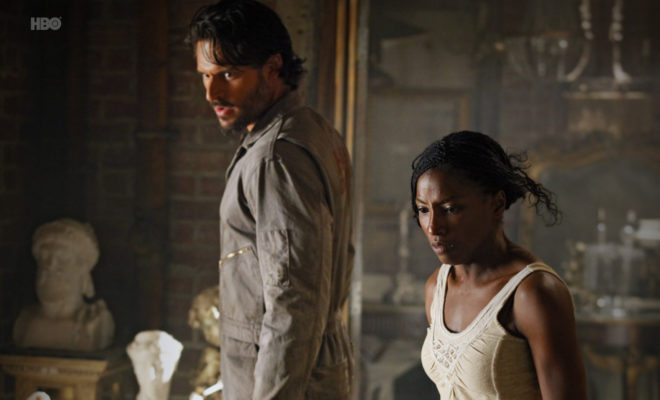 Episode 307
"Hitting the Ground"
Original airdate: August 1, 2010
Promotional Photos | Sneak Peek | Song List | Recap | Podcast | Download
Official Synopsis – added 07.14.10
Imperiled by Lorena, Sookie goes to extremes in her attempt to save Bill – with unforeseen consequences. Sam infiltrates a dog-fighting ring to extricate Tommy from his parents' greedy influence. Jason heads to jail to uncover the truth about Crystal; Summer makes a homecooked play for Hoyt's affections; Debbie vows revenge on Alcide; Eric uses Hadley as bait to get information from Sophie-Anne; Russell turns his back on the Authority, and on the Magister. (Written by Brian Buckner; directed by John Dahl.)
Note: originally titled "Let the Bodies Hit The Floor"
Additional Casting – added 03.26.2010
True Blood is adding yet another new character in season 3, according to EW's Ausiello. The latest addition is Holly, a thirtysomething mother of two who applies for a job at Merlotte's. Her "oddly prescient observations" disturb Arlene. In addition, the casting call says she's "presumably single", which certainly adds a layer of intrigue. The role is marked as recurring for season 3 with a possibility of being upgraded to series regular for season 4.
Note: we have not received confirmation on which episode Holly first appears, but we know she'll join the show "mid-season", so look for her around now.
Casting Call – added 03.10.2010

True Blood is casting the role of Claudine! Longtime readers may remember that back in the day, my screen name here was Claudine (Liz's was Pam). She is one of my favorite characters in all the Sookie'verse. Described as a beautiful, kind and loving figure who knows a lot about Sookie, she appears to Sookie in a golden vision. However, their utopia is abruptly dismantled when Claudine issues Sookie a mysterious warning. Producers are looking for a woman in her 30s or 40s for this possibly recurring role.
Also being cast for this episode is Big Bobby, a cruel "white trash dummy" with a large belly in his 30s or 40s; Frank, a suspicious, dangerous, Louisiana backwoods hillbilly, wearing overalls and speaking with a major accent; Dr. Sekuler, a female doctor in her 50s who gives Tara some dire news at the hospital [uh oh!]; and a patronizing hospital adminstrator in her 30s who interacts with Jason and Lafayette, the latter of whom issues her a smackdown.
Click to Download True Blood Season 3