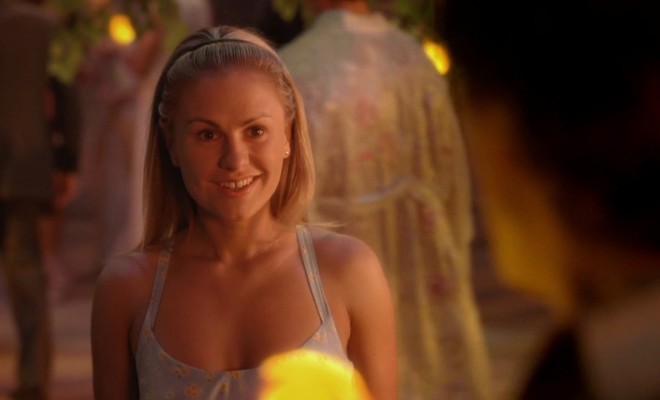 Episode 4.01
"She's Not There"
Original airdate: June 26, 2011
Promotional Photos | Previews | Song List | Recap | Podcast | Fashion
Official Synopsis – added 05.02.11
Sookie journeys away from Bon Temps; Eric and Bill try to win back the human public; Jason learns that no good deed goes unpunished; Tara finds refuge in close quarters; Sam bonds with his own; Hoyt and Jessica debate the dinner menu; Jesus urges Lafayette to join a coven; Terry tries to alleviate Arlene's fears about the baby. (Written by Alexander Woo; directed by Michael Lehmann.)
Casting Call – added 10.25.10

The season premiere is titled "She's Not There" and begins filming December 1.
Marnie is a Z-list palm reader who's painfully aware of what a joke she is — that is, until, she comes to be possessed by the spirit of a real witch.
Portia Bellefleuer, Andy's sister, will be seen at last. She's described as easy on the eyes and sharp in the courtroom. The casting call specifies that the actresses auditioning must be comfortable with nudity; who will she hook up with?
Naomi is an Asian-American cage fighter who is involved with one of her female competitors.
Queen Mab is described as an elegant beauty who presides over a fantasy land (the Fae world?). She's also got a temper.
Suzanne McKittrick is a Real Housewives type who throws a hootenanny to bond with "her kind." She may have a connection to like buttoned-down African-American shapeshifter Emory Broome.