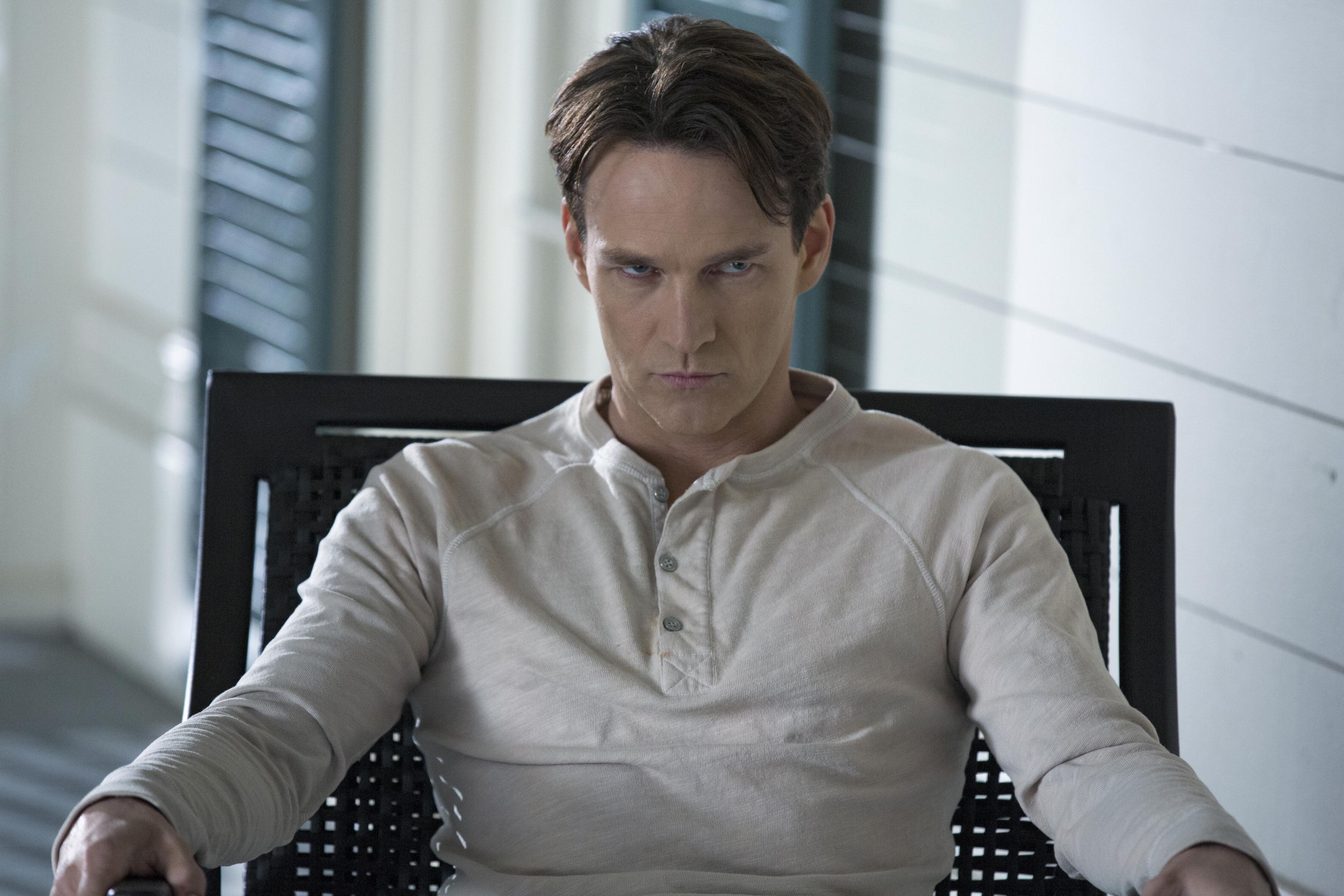 Episode 6.01
"Who Are You, Really?"
Airdate: June 16, 2013
Promotional Photos | Preview | Sneak Peeks | Inside the Episode | Song List | Podcast
Official Synopsis – added 05.28.13
In the wake of Bill's (Stephen Moyer) blood-soaked reincarnation, Sookie (Anna Paquin), Eric (Alexander Skarsgård), Jason (Ryan Kwanten), Jessica (Deborah Ann Woll), Tara (Rutina Wesley), Pam (Kristin Bauer van Straten) and Nora (Lucy Griffiths) flee the Authority compound as Sam (Sam Trammell), Luna (Janina Gavankar) and Emma (Chloe Noelle) dodge swarming guards. Now packmaster, Alcide (Joe Manganiello) discovers that the job comes with unsavory side dishes, but other major perks. In Bon Temps, Andy (Chris Bauer) deals with parenting four newborn human-faerie hybrids. Meanwhile, Louisiana Governor Truman Burrell (Arliss Howard) vows open season on vampires. Jessica returns to Compton Place as Jason hitches a ride with an eerie stranger. Written by Raelle Tucker; directed by Stephen Moyer.
Brief Synopsis – added 05.04.13
Bill's bloody reincarnation ushers in a new era for vampires, faeries and humans alike. (Written by Raelle Tucker; directed by Stephen Moyer.)
Title changed from "Don't Let Me Be Misunderstood".
Additional Casting Call – added 12.11.12
For the first episode of the season, producers are casting a State Trooper, an ex-military type in his 30s-40s, and Occupy Girl, an activist in her 20s who most likely is part of Nicole Jannsen's group.
Director Announced – added 12.02.12
We have further intel on the True Blood season 6 premiere: star Stephen Moyer is returning to the director's chair!
According to the latest casting call, "Don't Let Me Be Misunderstood" was written by Raelle Tucker and will be directed by Stephen Moyer when the show begins production in mid-January. Previously we'd only been sent the information about the characters being cast, but when we got our hands on the full listing, we were excited to see Moyer listed as the director. Looking forward to seeing what he does with such a pivotal episode!
Casting Call & Title – added 11.29.12
True Blood episode 6.01 is titled "Don't Let Me Be Misunderstood". In addition to the three new series regulars already announced, producers are looking for a couple of men to play sheriff's deputies from Caddo Parish (aka Shreveport) who travel up North to visit Sam at home. So it would seem he does return home from Authority HQ in the first episode, but with or without Luna? And what happened in Shreveport that can be connected to Sam?
Another Authority Guard is being cast, probably because all the other ones went splody in the season 5 finale. This one "sees something he can't believe in the AHO Control Room".
Casting Call – added 11.26.12
We're getting two more series regulars for True Blood season 6! Both are involved in the human-vampire war, but it looks like they're on different sides.
Producers are casting Nicole Jannsen, a bi-racial woman in her mid-20s who is an activist.  She's not at all concerned with money, she's concerned with the common good and doing what's right. Probably went to Bryn Mawr and drives an old Saab. Life hasn't beaten her down yet. She and her band of well-meaning liberal advocates model themselves after the civil rights activist "Freedom Riders" of the '60s. Described as "a do-gooder to the core", Nicole's naive optimism is charming but ultimately vaguely idiotic and dangerous.
On the opposing side of the table is Creighton Burrell (uh…Crate & Barrel?), Governor of Louisiana. (Note: he was previously listed as the Governor of Texas.) A white man in his 40s-60s, Burrell is a classic good ol' boy politician. He has a serious bone to pick with vampires: his wife ran off with one, leaving him as a single father to their only daughter, Ali. Governor Burrell is politically savvy, but overly ambitious and tends to let his personal aspirations overshadow his humanity.
Casting Call – added 10.04.12
We have our first casting call! True Blood season 6 is looking to add some new characters as the war between humans and vampires takes shape, plus it looks like they're looking to cast someone as Warlow other than whoever played him in the brief glimpse we got at the end of season 5.
First on the list is Ben, a charming and handsome fellow in his mid-20s to mid-30s. He's described as  "the kind of guy women and men are completely drawn to, but also needs to possess a low-key quality, a southern gentility, that Sookie would find familiar and comfortable." Possible love interest for Sookie? If he is, she'd better watch out because Ben has a dark side, and it's "dark, dark, dark."
And now, Macklyn! This is Warlow, right? M. Warlow? We don't get much on him, just that he's "a mysterious figure with deep ties to Sookie and Jason" who appears to be sinister when we first meet him.
Sounds like we have some politicians entering the arena, but this time they're human. Producers are casting the Governor of Texas and his Daughter, but as recurring characters. He is "handsome, a little slick, a politician, a warmonger", while she is a pretty woman in her 20s who appears fearful at first but turns out to be pretty tough.