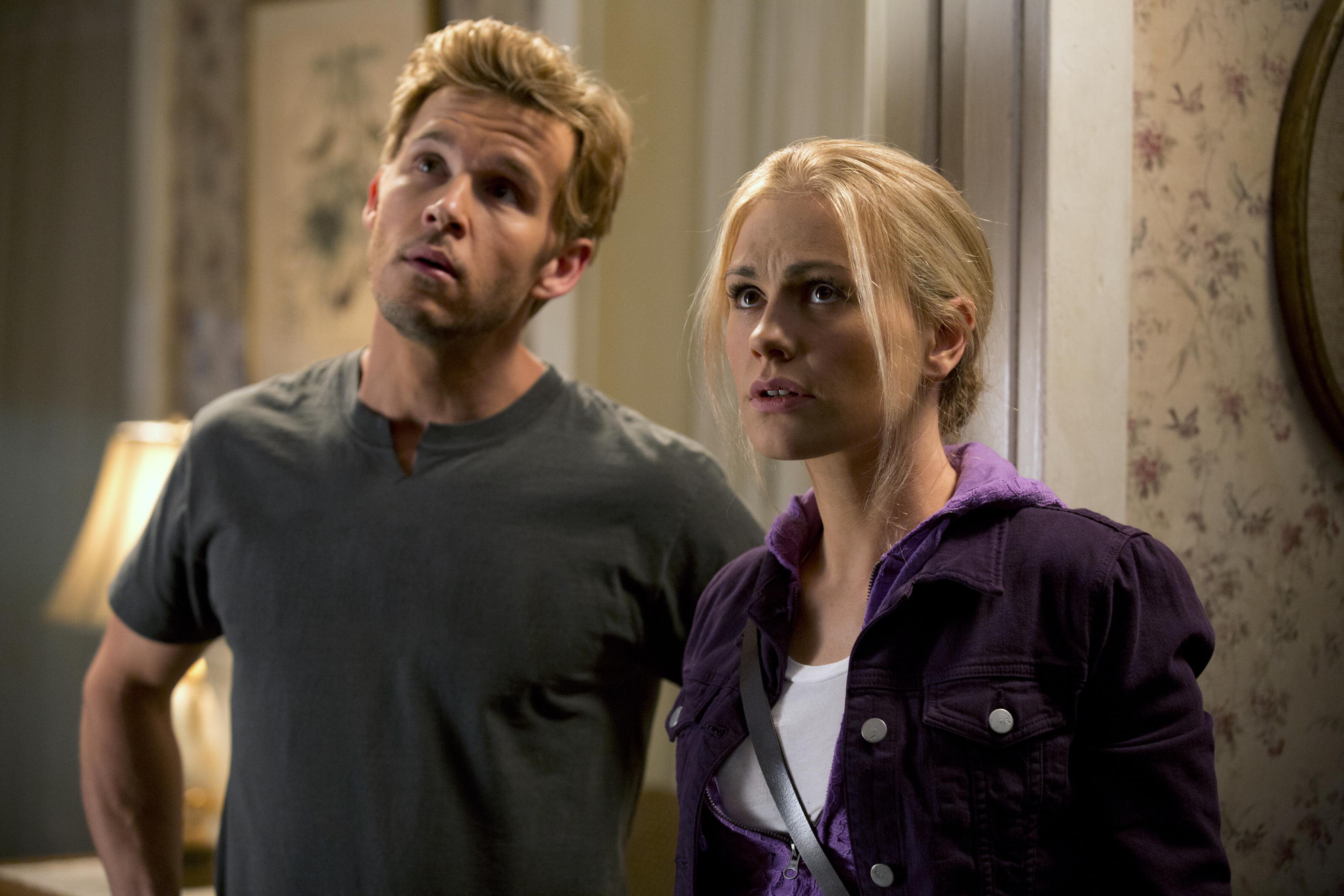 Episode 6.02
"The Sun"
Airdate: June 23, 2013
Promotional Photos | Preview | Sneak Peek 1 | Sneak Peek 2 | Inside the Episode | Song List  | Podcast

Official Synopsis – added 05.28.13
A long-lost relative reveals himself to Jason and Sookie. After Tara is victimized by a new government weapon, Eric takes matters into his own hands in an effort to thwart Burrell's anti-vampire initiatives. On the road to work, Sookie is drawn to a handsome stranger who shares her faerie abilities. Sam is unnerved by supernatural-rights zealot Nicole (Jurnee Smollett-Bell), and is confronted by Alcide and Martha (Dale Dickey) about Emma's future. Bill contemplates the scope of his heightened powers. Written by Angela Robinson; directed by Dan Attias.
Brief Synopsis – added 05.04.13
Sookie meets a handsome stranger; Eric takes on the governor; Bill contemplates his new powers. (Written by Angela Robinson; directed by Dan Attias.)
Title changed from "Here Comes the Sun".
Casting Call – added 01.07.13
This episode was written by Angela Robinson and will be directed by Dan Attias. Production is scheduled to begin January 15, 2013.
Producers are casting Willa Burrell, daughter of Governor Burrell (Arliss Howard). A pretty co-ed, age 22, she doesn't agree with her father's anti-vampire agenda but is powerless to stop him. This is a recurring role.
Joining Nicole Jannsen's troupe of activists are Mustard, a young Caucasian woman from Los Angeles with canary yellow hair dubbed a "Lena Dunham-ish" type; Jessie, a Caucasian male in his late 20s described as "lanky and pompous"; and Bruce, a young African-American guy from Vermont who is "nerdy". Mustard and Jessie are recurring while Bruce is "possible" recurring. Watch your back, Bruce!
Maggie is a Caucasian woman in her mid-30s who is petite, blonde, and pregnant. She believes her husband ran off and left her to raise their baby alone, which naturally makes her emotional. I'm guessing Mr. Maggie didn't leave her by choice and she'll become part of Governor Burrell's campaign. This is another potentially recurring role.
Speaking of vampire snacks, Veronica is a "sassy prostitute"  turned "human edible" (a person who allows vampires to feed on her for cash) in her mid-30s who makes housecalls. This is a one-off role and the actress who lands the part will need dance and/or contortionist abilities.
And finally, we're going to meet Niall's Mother! Flashing back to 3500 B.C., we'll meet this Caucasion woman (mid-20s to early-30s) who is billed as Young Niall's (Rutger Hauer) protective mother. That's right,Rutger Hauer IS playing Niall*, although it appears he now goes by Macklyn Warlow. Or that's an entirely different character. Or Macklyn and Warlow are two different characters. (My money is on the first option.)
*For non-bookies, Niall is an ancient faery who is Jason and Sookie's great-great-great-great-etc-grandfather.