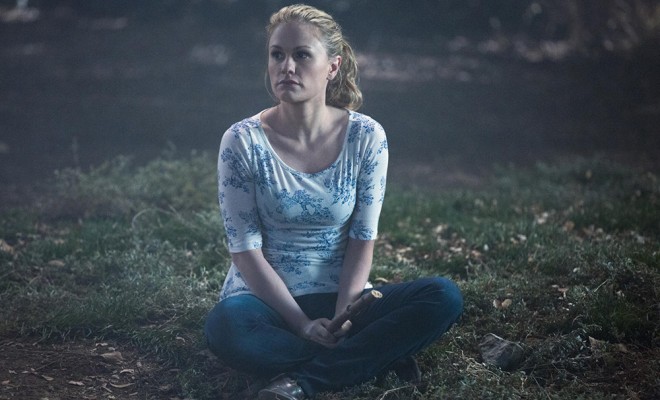 Episode 7.03
"Fire in the Hole"
Airdate: July 6, 2014
Promotional Photos | Preview | Sneak Peeks |  Song List | Recap | Podcast
Exclusive teaser – added 07.04.14
After getting over the relief of finding her Maker, Pam is upset that he's infected with Hep-V and apparently is resigned to succumbing to the true death. She tries to motivate him out of his ennui by appealing to various emotions, finally hitting on the right one: revenge. The target may surprise viewers at first, but we cannot wait to see it play out.
Official Synopsis – added 06.30.14
Sookie (Anna Paquin) hatches a dangerous plan to take down the H-Vamps, even as Vince (Brett Rickaby) and his armed vigilantes pose an equally serious threat. Lafayette (Nelsan Ellis) gets high with James (Nathan Parsons); Jason (Ryan Kwanten) eyes a family future with Violet (Karolina Wydra); Willa (Amelia Rose Blaire) is forced to find a new place to stay; Sarah Newlin (Anna Camp) sheds her past. Pam (Kristin Bauer van Straten) offers Eric (Alexander Skarsgård) a compelling reason to return to Louisiana – and be the vampire he used to be. Written by Brian Buckner; directed by Lee Rose.
Why does Pam swear when she's told Eric's location? – added 06.29.14
The first thing dream Eric says in the scene to Jason—"You found me"—is what real Eric says at the end of the episode to Pam, when she finds him, sick with Hep-V, in France's Rhone Valley. "You will get some sense of why that is such a scandalous place for him to be holing up in episode 3," Barnow says. (EW)
Mini-Description – added 06.08.14
Sookie hatches a dangerous plan; Pam looks to motivate Eric.