Ryan Kwanten Heads Back to Australia for Indie Movie
|
Shooting on True Blood season 5 wraps in just a couple of weeks – July 12 – and the show's stars have been lining up projects for hiatus. Ryan Kwanten is the latest to sign on for a new gig, joining Australian independent film Mystery Road, reports the Herald Sun.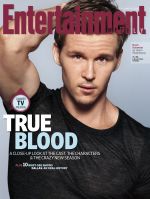 Already shooting in Queensland, Mystery Road is about a detective who returns to his outback home town to solve the murder of a teenage indigenous girl. Ryan plays a pig hunter in the movie.
Also lining up work is Camilla Luddington who will appear soon as Claudette, the faery sister of Claude (whom we, and Jessica, met briefly in this week's episode) and the late Claudine. Camilla has been tapped as the new Lara Croft in the next Tomb Raider video game. The Guardian reports that Camilla will provide voiceover work for the new game in addition to doing all the motion-capture for the character – making her the first performer to lend both vocal talents and body shape to Lara Croft. Watch for Camilla to appear on True Blood in July.