"Dead Ever After" Cover Revealed
|
Charlaine Harris posted on her Facebook page that USA Today revealed the cover of the Sookie Stackhouse finale, Dead Ever After. Take a look: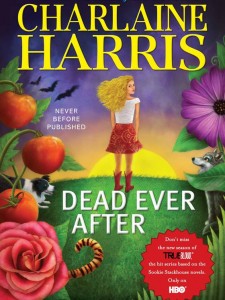 So, it looks like the shifters and vampires are represented, and is that a tiger's tail I see sticking out from behind that flower? Sookie looks like she's walking away but looking over her shoulder at her life that was. It's kind of funny because the artist depicts Sookie, walking off into the sunset. Now, this could mean many things, sweet readers. I'd be very interested to know what you can glean from this cover.
Dead Ever After hits bookshelves May, 2013, but you can pre-order your copy by clicking this link.