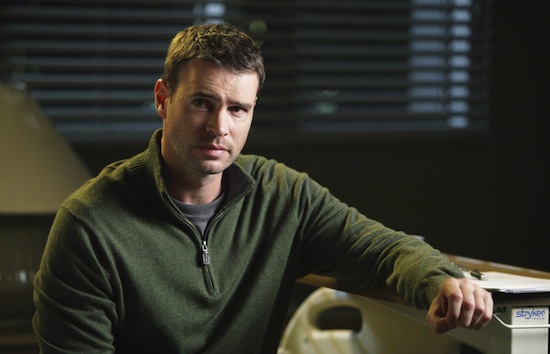 Scott Foley Invloved in 'Scandal'
|
We've just learned from TV Line that Scott Foley, who played Terry Bellefleur's military buddy, Patrick Devins, last season, is joining the cast of ABC's Scandal for a multi episode arc which is being kept secretly secret. Shonda Rhimes just can't get away from him in her shows! Scott was a character in her popular series Grey's Anatomy, for 15 episodes. If you're not watching Scandal right now, you're missing out on true quality television. From costumes to the talented actors, this show hits on all points and continues to be excellence in ABC 's primetime programming.
Scott's character will be involved in a major arc for this current season. In this news article, Shonda Rhimes can't keep from gushing over Scott.
Shortly after Foley wrapped his two-season recurring stint on Grey's in late 2011, Rhimes raved to TVLine, "We're so in love with Scott Foley. And we would've kept him [on Grey's] if we could."

Foley's Scandal gig comes two months after Fox prematurely halted production on his planned-midseason comedy Goodwin Games. Network president Kevin Reilly said last week that the show's seven produced episodes could air this summer.
I am a huge fan of Scandal so this news was very exciting to me. I can't even hazard a guess as to what Scott's character and story will be. This show sets the bar on twists and turns to an all new level and there's just no way to predict what this 'major arc' will be. But I know that Scott will be perfectly cast for it.