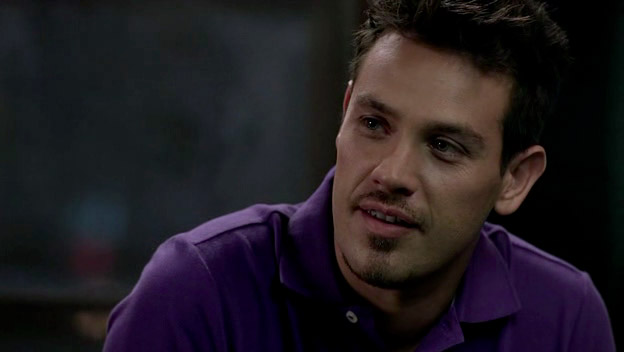 KEVIN ALEJANDRO Talks "Golden Boy"
|
We sure do miss Kevin Alejandro's Jesus on True Blood, but the good news is that his awesomeness can be seen on a new series which premieres tonight, Golden Boy. In this interview with AfterElton Kevin talks about his role on True Blood and how it enhanced his career.
"The project as a whole was amazing, and it's still amazing. That was probably one of the most pivotal moves in my career…taking on that character just widened the audience support. The fans are truly there because they love you. No one's there to really beat you up, and I got a real sense of real loyalty from fans through that show. I would go back if they asked me today. 'Hey, would you come back?' Abso-f***ing-lutely I'll come back."
Alejandro also talks about working with Nelsan Ellis:
"You know what helped was the genuine relationship and friendship and love between Nelsan [Ellis, who played Lafayette] and me in real life. That it was easy to love him. He's a great guy and he's a father and he's so unlike Lafayette. He's so shy, he's a mystery, and it was easy to do that with him."
Alejandro gets into his character on Golden Boy as well. Playing opposite Theo James (Downton Abby), Alejandro's Tony Arroyo will be at odds with James' character.
"Before Theo's character, Clark, comes into the picture, my character was the golden boy. You see this kid come in, and it makes him boil. He sees his ambition, which reminds him of himself, and he struggles with being the best. He wants to be the best, no one is going to take it from him. He will do whatever he can to make sure that doesn't happen, and you see these layers get peeled away. Then you'll see his family life, and see why he is the way he is."
You can read the entire interview with Kevin Alejandro at AfterElton, and be sure to check out his new project, Golden Boy, airing tonight at 10/9c, on CBS.