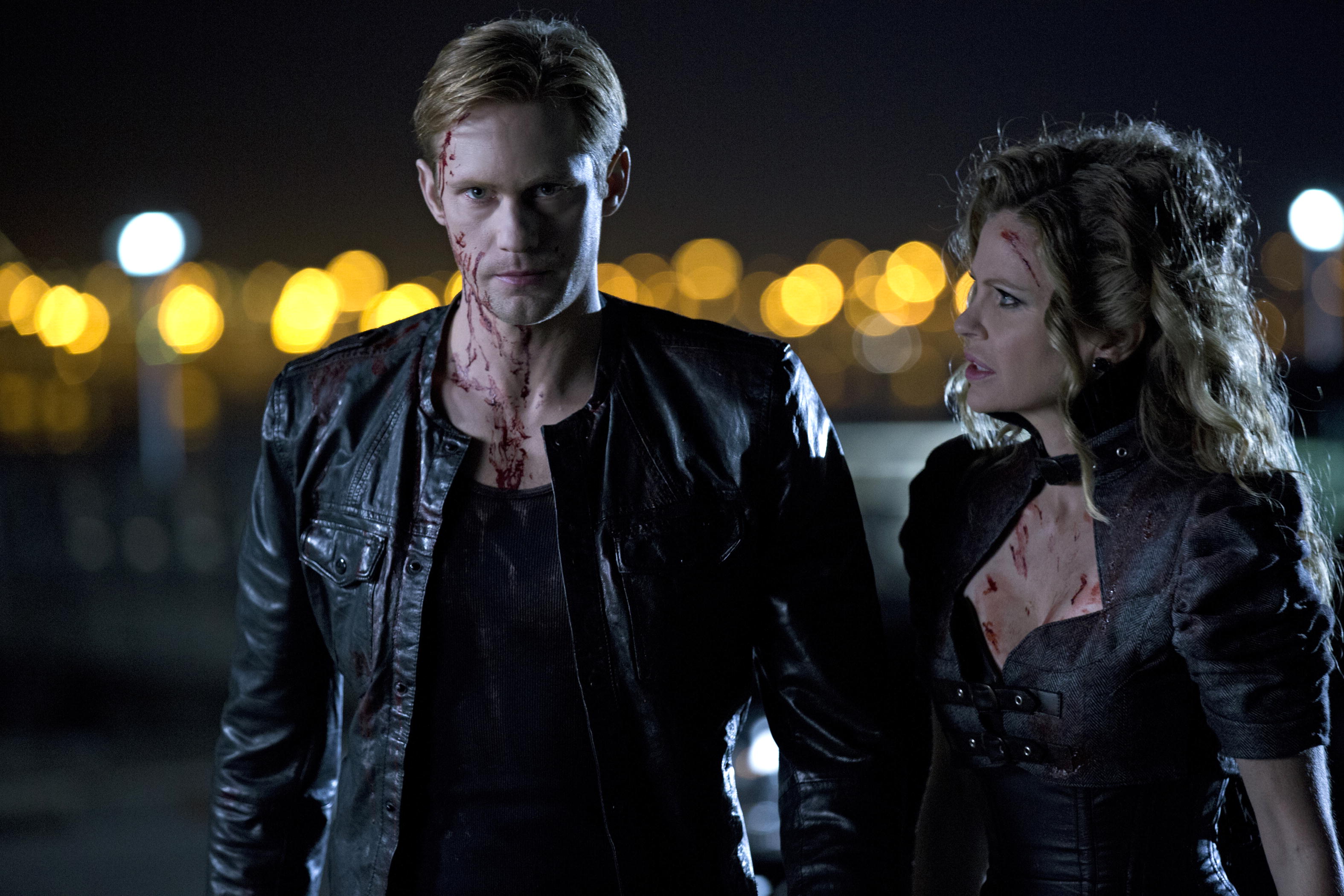 SPOILERS: Nuggets from the First Three Episodes of True Blood Season 6
|
The screeners (DVDs for advance review) for True Blood season 6 went out to critics and reviewers recently, providing fresh fodder for spoiler columns. Here's a round up of spoilery tidbits from various sources.
From Matt's Inside Line @ TVLine:
I'm so excited that Anna Camp is returning to True Blood. Any scoop on how Sarah is going to react to Steve coming out of the closet? Or maybe she already knew he was gay all along? –Rashad
God-loving Sarah resurfaces in this season's third episode and wastes no time tearing into her ex — but it's his vampiric orientation she seems to have the bigger issue with.
Yes! Sarah returns sooner rather than later!
From Mega Buzz @ TV Guide:
I can't wait for True Blood to return! Please tell me you have some scoop! — Andre 
NATALIE: To sum up the show's return: Blood. Death. Blood. Repeat. (But that second death won't stick.) More specifically, remember last season when Sookie and Jason discovered that someone named Warlow killed their parents? Well, suffice it to say that finding and destroying him will be at the narrative fore (particularly because of this casting). What will surprise you, though, is Warlow's connection to Bill's occupation of/transformation into/death by Lillith. Nora is going to have to brush up on her vampire Bible, tout suite.
Ooooh, Warlow is connected to Billith? Are we hinting that vampires can transform into more than psuedo-deities? And the death that doesn't stick – new vampire?
From Ask Ausiello @ TVLine:
Question: Any scoop on True Blood Season 6? —Soso
Ausiello: I carved a few hours out of my holiday weekend to watch the first two episodes, and here are a few highlights: There's a pivotal death, a threesome, a Hoyt shout-out, all kinds of fancy new anti-vampire weaponry and a horrifying glimpse into the future that may or may not foreshadow this. Also, if you've been dying to know what Friday Night Lights' Jurnee Smollett-Bell will be up to this season, I can now confirm that she will be playing an activist with the Vampire Unity Society (V.U.S.) by the name of Nicole who sets her sights on [spoiler].
Um, didn't we know that Jurnee was playing Nicole about 5 months ago? Or is he teasing that she's got the hots for one of Bon Temps' finest? And he's still trying to front like Eric is being killed off. Nice try, Ausiello. With all these red herrings about the Viking being the one killed off, who do you think they're trying to deflect attention from so it's totally shocking when it happens?