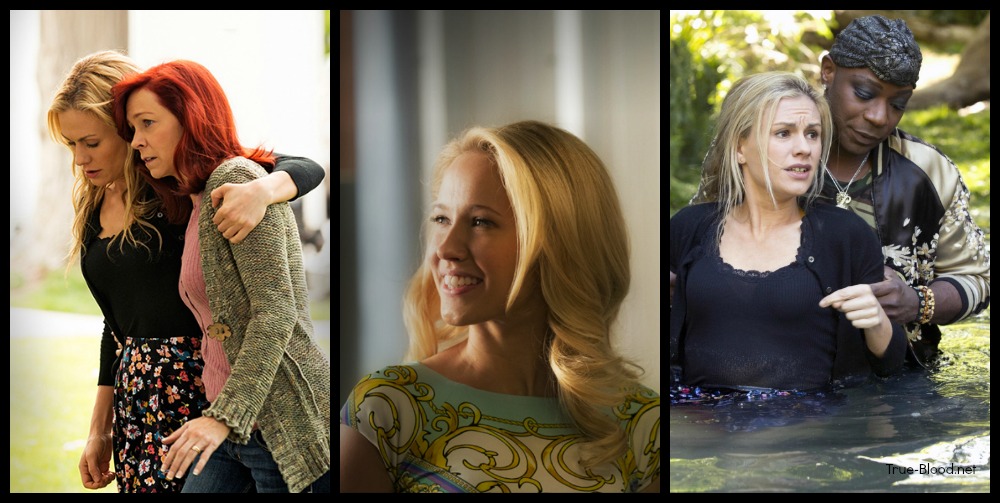 True Blood Fashion Q&A: Sookie's Black Skirt, Sarah's Print Dress, Lala's Satin Jacket
|
This week's True Blood fashion column features items that we had multiple inquiries about. From Sookie's skirt to Sarah's dress to Lafayette's jacket, you all clearly know what you like! Thanks to Costume Designer Audrey Fisher, we've tracked down each item and linked you up.
Q. I LOVE Sookie's fashion, and I have a few of her item's from previous series. Please can you ask Audrey what the brand were for the outfit she wore in this week's epidsode 5 (black cardigan, black top and gorgeous floral skirt). Please can you also say a big 'thank you' to Audrey – for dressing characters like Sookie and Pam in super-fabulous styles that fan's like me love! – Hazel
A. "Thanks Hazel!" says Audrey. We had a lot of inquiries about Sookie's adorable floral skirt that she paired with a black cardigan and tank top. The skirt is the Pins & Needles circle skirt from Urban Outfitters. That particular print is no longer available, but if none of the current selections set your heart atwitter, this dress might work for you, or this longer skirt. The rest of the outfit is a sweater from JCrew and tank top from Only Hearts.
Q. Where did Sarah Newlin get the dress that looks like a Hermes scarf? So super cute. Thanks. – Kate
A. Sarah Newlin is the best dressed sociopath we've seen yet on True Blood, agreed? Audrey put Sarah in the Mirrored Status print dress from Cache for those scenes, and not only is it in stock, it's quite affordable. Just promise us you'll use it for good, OK Kate?
Q. In episode 6.5 "F**k the Pain Away" Lafayette has the best Asian baseball jacket. Who is the designer? – Trish
A. Audrey continues to buck convention when it comes to Lafayette's wardrobe – the jacket that brought so many emails to our Inbox is this women's embroidered bomber jacket by Zara. It's currently on clearance, so grab it while you can!
Do you have a burning question about an item worn by a character in True Blood season 6? Drop us a line and we'll work with Audrey Fisher to track it down for you!