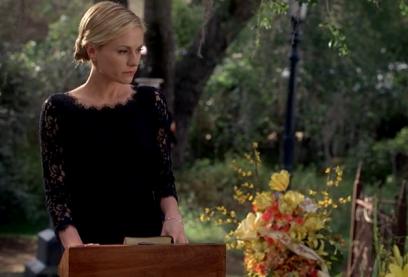 True Blood Round Table Discussion: "Life Matters" to Terry and Jason
|
The latest episode of True Blood was a huge fan favorite. Saying goodbye to Terry and Eric's rage as well as Bill's sacrifice dominated the chatter around Twitter, Facebook and this round table discussion. "Life Matters" to TV Fanatics Chris O'Hara, Leigh Raines, Matt Richenthal and me, and we discuss some of the highlights in this week's round table.
[divider]
What was your favorite scene from the episode?
Chris: Sookie's story and flashback to the first time Terry met Arlene, for several reasons. It was a big moment for Sookie, admitting her power to everyone. It also was a glimpse back to a simpler time on True Blood – and it reminded us that despite all the madness surrounding their relationship and its tragic end, Terry and Arlene really did share something special.

Leigh: It was very short, but when Jessica went back to save Bill and kissed him on the forehead. I loved that James came with her and that she would never abandon her maker. Then they all walked out together

Liz: I loved it when Jason had the gun on Sarah Newlin. The dialog was wonderful for him, and then when he made the decision not to shoot her because that's not what he does, I was very happy. I really thought he'd be the one to take her down, but after listening to what he was saying to her I'd rather Jason didn't blotch his soul with the likes of her.
(Read the rest by clicking on the link to the discussion above.)
[divider]
Which one of us best represents your own thoughts? Weigh in below!