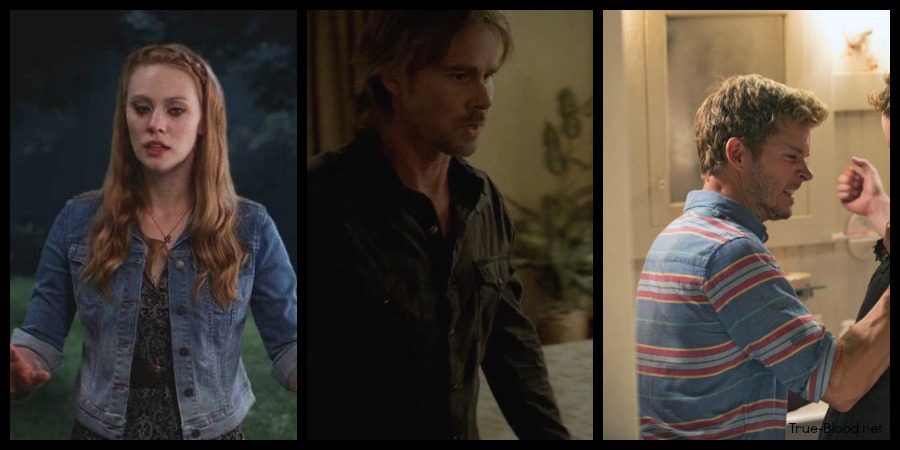 True Blood Fashion: Jessica's Dress + Necklace, Jason's Striped Shirt, Sam's Plaid Shirt
|
True Blood season 6 may have wrapped, but your fashion questions keep coming! This week Costume Designer Audrey Fisher tackles queries about Jessica's final outfit, what Jason wore to kill Warlow, and Sam's moody plaid.
Q. Where was the key necklace from that Jessica wore on the season finale of True Blood season 6 – Leah
Q. What dress was Jessica wearing with the ombre jean jacket? – Sara
A. Audrey paired Jessica's denim jacket with a black and cream floral maxi dress by Mimi Chica at Nordstrom's. The Plus Size is still available, and here's a cute tie-dye alternative.  The key necklace is by Erica Weiner. "I love her stuff," said Audrey. "It's great and very affordable."
Q.  Need help. I was really diggin Jason's blue, red, white button down. He wore it on the season 6 finale. Episode "radioactive." Anyone know where this shirt's from or where I can get it? Thanks – Big Al
A. Thinking of taking out a 6000-year-old fae-vampire hybrid, Al? This is definitely the right look for such an endeavor! Audrey picked up Jason's shirt at Urban Outfitter's – it's the Hawkings McGill Striped Breezy Button-Down in blue.
Q. In the bar Sam is wearing a black shirt with what looks like tartan on the shoulders and the breast pockets . I know someone famous for wearing shirts like that, he was in a famous band in the 70's . Would make a great gift. He loves the show and the shirt. Where can I buy one please? – Isabel
A. Isabel, it took a while to figure out which shirt you were referring to, but we're pretty sure you mean the dark shirt he wore in episode 4. It's a Salt Valley Western shirt from Urban Outfitter's, like this one, that Audrey overdyed to get the look she wanted. The dark plaid with dark dye makes it look solid in some lights, but closer inspection shows that it is in fact all-over plaid. Sneaky!
Do you have a burning fashion question for True Blood season 6? Drop us a line and we'll try to track down the source! Please note, we are only taking questions for season 6. If you have a question about an item worn in a previous season, take a look at our archives.