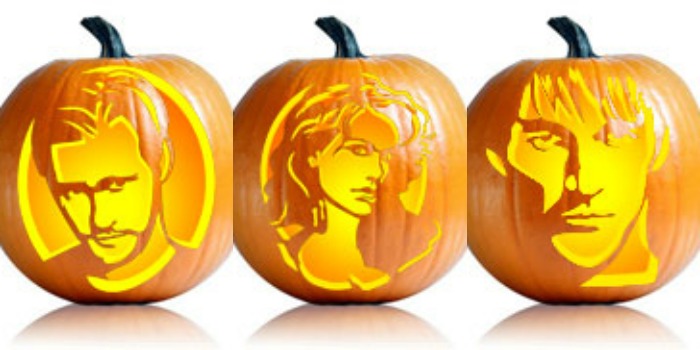 True Blood Halloween: Trick Out Your Pumpkins
|
Happy October, Truebies! We know a lot of you love Halloween, and love showing your True Blood spirit as part of the holiday, so ever year we share a variety of ideas and products to celebrate.
It's pumpkin time! Customize your Jack-o-lanterns with these vamp-riffic ideas.
Martha Stewart has an adorable (?) idea for turning small pumpkins into vampire pumpkins using map pins and those cheap plastic fangs you can find everywhere right now. A grouping of these on a mantle or side table are a fun way to dress up your home for the holiday.
Ultimate Pumpkin Stencils has a huge assortment of designs, including several True Blood stencils. Carve Sookie, Eric, or Bill on your pumpkin and show your Truebie colors. Camp Blood also has some free stencils available, including Lafayette and the Merlotte's and Fangtasia signs.
This post contains affiliate links. We receive a percentage of sales from those links to support this site.