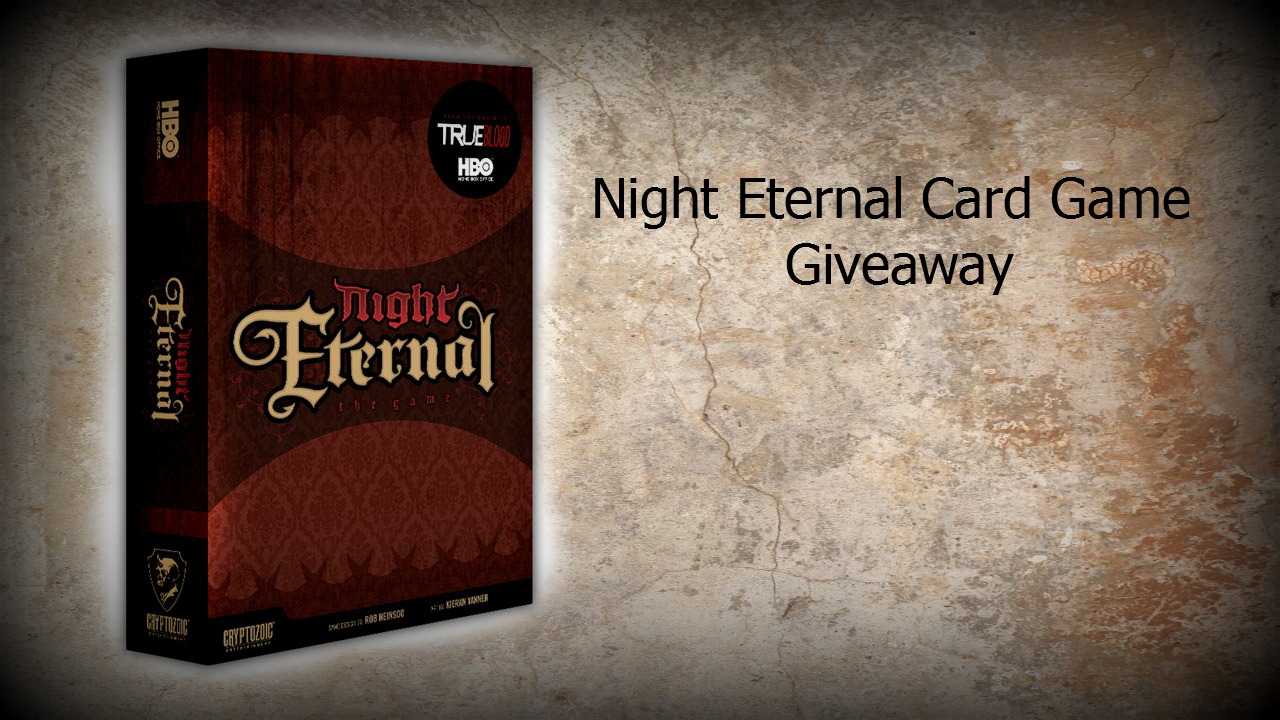 From the World of True Blood Comes NIGHT ETERNAL:The Game
|
"In ancient times, immortal beings – the vampires – ruled the world from the shadows. Politics and assassinations soon bored these nocturnal creatures. For their dark amusement, the undead devised a game: the stakes were the blood and life force of their human pawns."
And that's how the rule book for Night Eternal opens. Intrigued? I was fortunate enough to have received this game in advance of its debut later this month, and my son and I have been kicking the tires and test driving it last week. At first it was a little confusing for me to grasp how to play the game, but my son is somewhat of a gamer and guided me through well enough. Then the fun began.
"True Blood is one of the most popular supernatural dramas, and as huge fans of all things undead, we are really enjoying working with HBO on this game," said Cryptozoic chief operation officer, Scott Gaeta. "This is a really entertaining strategic game and we've had a great time creating it. We're looking forward to introducing it to the True Blood fans."

Cryptozoic's Night Eternal breaks the fourth wall and fans of the show will be able to transport themselves into the world of True Blood. Throughout the game, players must play their cards wisely and compete for Blood stakes in an attempt to dominate one of the two groups. Just like in real vampire politics, a player is never locked into supporting only one side, as they can change loyalties mid-round, creating an exciting shift in the game. Night Eternal will be available in hobby and retail stores.
In all honesty, although he and I were able to play the game together, Night Eternal is really best played with more players. The challenge level rises and the action becomes much more interesting. The rule book spells out setup, strategy and objective quite clearly, so that even a confused sort like me will be able to pick it up after a couple of rounds. I would rank the difficulty level somewhere between beginner and moderate, although for some of you that could vary widely one way or the other.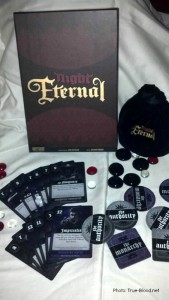 The packaging for this game is pretty cool too. The box it is all packaged up in is very sturdy so it will survive even the toughest vampire/human battles. Inside are two decks of cards, one deck is marked 'Immortal' and the other and much larger, is marked 'Agent'. There is also a lovely black felt bag which holds the 'Blood', or glass stones in three different sizes, shapes and colors. These stones have three different values and the object of the game is to have the most Blood when one or more opponents have lost the last of their own Blood.
Night Eternal is based on the Lilith storyline along with the Authority from season 5. Lilith is one of the characters represented in the cards being played. The game is played in rounds of battles with the first round opened by the oldest of the group of players – because "vampires fear their elders". I found that to be pretty amusing. There are two factions, the Monarchy and the Authority, and your loyalty to these can change back and forth throughout the game. It's definitely not boring.
Night Eternal is from Cryptozoic, the creators of games like the World of Warcraft Trading Card Game and The Walking Dead Board Game. Break out this game at your Halloween party, and while you're at it haul out your overnight extras because they won't leave anytime soon.
In collaboration with Cryptozoic Entertainment, we are able to offer up not one but two Night Eternal True Blood Card Games in this special giveaway, open to contestants worldwide. Simply fill out the entry form below and you're in!
Fill out the form below and click Submit;
Be sure to use a valid email address;
One entry per person – duplicates will be deleted;
Entries must be received by 11:59PM Pacific on Sunday, October 20th, 2013, to be eligible;
Two (2) winners will be drawn randomly from eligible entries and notified via email.
This contest has ended. Congratulations to Katherine Tanner and Elizabeth , our two winners!
Good luck Trubies!