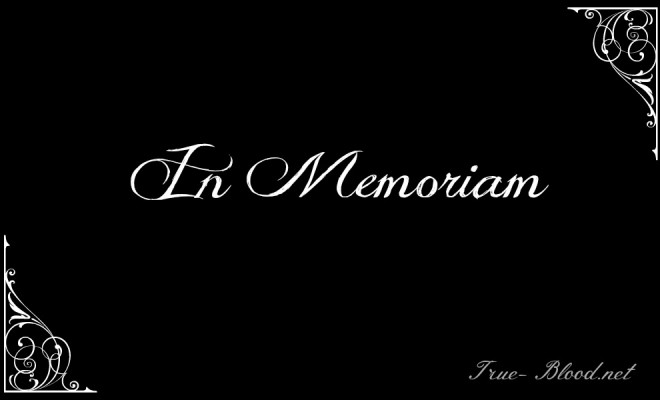 In Memoriam: The Shocking Death of a Supporting Character
|
SPOILER ALERT! If you have not yet watched episode 3, "Fire in the Hole", you may wish to stop reading now if you do not want to be spoiled.
In a one-two punch from tonight's episode of True Blood, we lost two characters that were pretty important to the series. Both were creations of the original Sookie Stackhouse books, written by Charlaine Harris. One was important to Sookie and the other was more of a supporting character which featured mainly as a leader in the town of Bon Temps.
Maxine Fortenberry was Bon Temps busy-body, tattle-tale and all around know-it-all. We first met her in season 1 when she pushed her way to Bill Compton for a photo op after his speech in front of the Descendants of the Glorious Dead. She is Hoyt's mother and kept a pretty short leash on her only son.
Maxine wasn't happy at all when Hoyt started dating Jessica, going even so far as trying to match him up with another girl from the local church.
When Sam Merlotte's little brother, Tommy, entered the scene, Maxine took him under her wing. He was a substitute for Hoyt when Hoyt rebelled against his mother and went off to live with Jessica.
As the years went by we watched Maxine become more and more nasty, finally joining with the vigilante, Vince, taking up arms against vampires, weres, fairies and anything else that she considered 'different'. In the end, as she finally has the opportunity to take out her revenge against the two people she blames for taking her son away from her, Jason and Jessica, it is Violet who rips out her heart, leaving her to die on the road.
Goodbye Maxine! We'll miss your colorful outfits and perfect hairdo.
Maxine Fortenberry in pictures:
Maxine-isms:
"Oh darn it all to heck! Dagnabbit! Sh-t f-cker!"
"That boy's dumber than a bucket of spit, and just as useful."
"What would it do you to keep your own mother locked up in her own house. Norman Bates! "