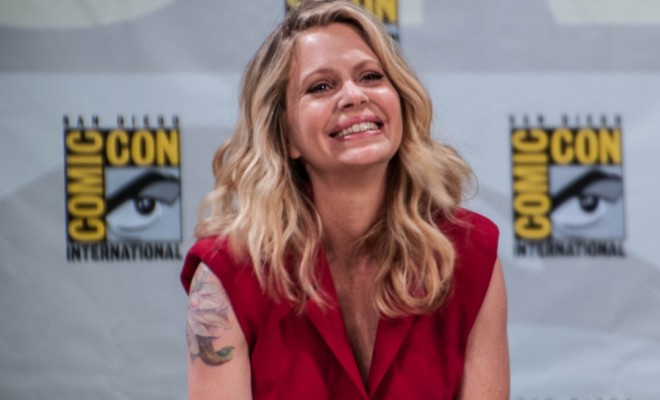 Kristen Bauer van Straten Talks Pam's "One Person", Losing Tara, More
|
In an interview with After Ellen, Kristen Bauer van Straten opens up about saying goodbye to her on-set family, Pam's vulnerability for her "one person", working with Rutina Wesley, and more.
AE: Well I've watched True Blood religiously from the beginning, and Pam is one of the characters that's grown the most and gone from being a character where you loved her and could count on her for a great one-liner, to the past two seasons, where you've had the opportunity to play a variety of emotions. And you've seen her be vulnerable, especially with Eric. How do you feel like she in general and her relationship with Eric in particular have evolved?

KB: For me as an actress, I feel that Pam has gotten a huge evolution from the beginning, as far as us getting to know her. Because she really was tough as nails, and by season three we started to see how incredibly vulnerable she was in regard to Eric. I've always said: everybody has one person. The toughest people that we know, the most unlikeable assholes we know, have a spouse. And Eric is her one person. And as we've gotten to see her flashbacks and her making, we found out more why that was. But going into Season 7, Pam chose Eric again above all else. And now that he's ill with Hep-V it's probably her most vulnerable season. Because she actually could lose him. And as an actor, that's been a huge gift to play dire circumstances. And it's also been so linear and clean for me and for Pam over the years. You know, she's stayed very consistent and we've just gotten to know her better and better. But this season, because of the circumstances, she has to dig deep into a strength we haven't seen, and also a vulnerability that we'll see even more.

AE: The past two episodes have been, for me, some of the strongest of the entire series. And you have been a big part of that.

KB: I know; I thought the same thing when I saw episode four, I thought "Wow, that had the core of every character." And the same with last week.

AE: Yeah, it's been great. I have to say I was sad–and I know a lot of my readers were sad–about both the fact that Tara died and that, after what felt like a very natural and graceful buildup of Pam and Tara's relationship, it never ultimately came to very much. I talked to Angela Robinson last week and she said that you shot a scene in which you cried about Tara's death, but how did you feel about how that storyline was resolved.

KB: That's interesting that Angela told you we shot that scene. Because we did shoot a scene of a very emotional reaction when I felt Tara's death. I think there's so many things editors have to think about that actors don't, and one of them is the length of the episode. [Laughs] So that may have been why. Did she say why?

AE: She said it didn't match the tone and they wanted to move up the search for Eric storyline, so they moved a scene from episode two to episode one.

KB: Ah, I was wondering why they did that as well. That's interesting, because the actor has different concerns and we just have to take care of our own area, thank god. But they have to think about so many other things. I really felt like that relationship that I got to play with Tara and Rutina was so much fun. I haven't had many relationships outside of Eric and when Rutina (Wesley) and I realized we'd be working together, we didn't know each other at all. We had only glared at each other from across a scene. You know, I had been wanting to kill her for a year. And we had no idea if we would enjoy working with each other, and we had so much fun. I just love that girl and I love that relationship. This year there's a couple other people I at least got to pass in scenes. But it such a big cast, that it's hard. Like, Chris Bauer and I—the two Bauers—was one of the few I never even got to walk past. But I loved everything they wrote for me and Rutina.