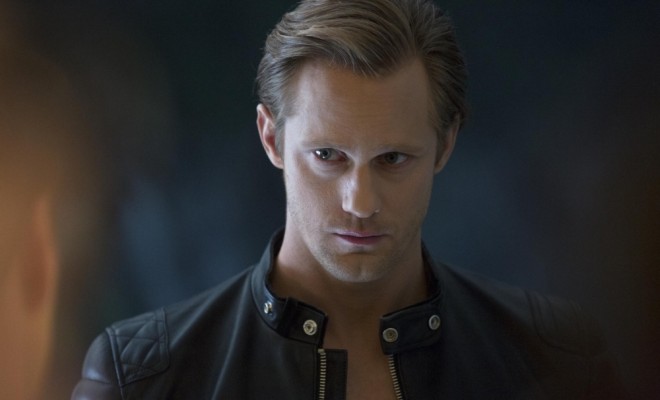 Alexander Skarsgard Cried After Filming Final True Blood Scene
|
We haven't heard a lot from True Blood star Alexander Skarsgard about the final season of the show. He couldn't really participate in the pre-season interviews because Eric's fate was top secret, then he was busy filming Tarzan and unable to attend the season premiere or Comic Con. Alex is doing a little bit of promotion for The Giver, in theaters this week, and squeezing in a few comments about True Blood as well.
In a short interview with People.com, Alex talked about the emotional impact of filming his final True Blood scene:
"I remember shooting my last scene with Kristin Bauer [van Straten, who plays Pam]," he says. "I knew that it was going to be very emotional, I knew that it was going to be difficult, but I had no idea how hard that would hit me the second they yelled cut on our last take together."

He adds: "In that moment, we just looked at each other and burst out crying."
Alex also did a call-in interview with Mix 94.1 FM radio where he talks about The Giver, why it was time to end True Blood, and whether or not he was ever interested in playing Christian Grey. Click to listen.