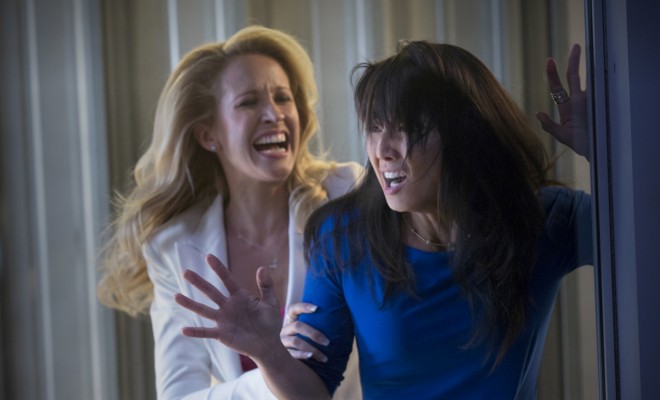 EXCLUSIVE: Sarah Newlin's White Suit Going on the Auction Block!
|
The HBO/Screenbid auction of more than 1500 pieces from True Blood starts tomorrow, August 20, and we've got the exclusive scoop on one of the cooler items going on the block: Sarah Newlin's white suit.
Sarah Newlin, played with delicious intensity by Anna Camp, wears this white suit throughout episode 6.08 of True Blood. The gleaming white suit is her outfit of choice while torturing Steve Newlin, her Gay Vampire American ex-husband, but more importantly, she wears it when she kills Miss Suzuki.
The representative of the Tru Blood company learns that Sarah is messing with the production of Tru Blood.
"Are you adulterating my product?" she asks.
"I'd tell you, but I'd have to kill you," Sarah answers.
And then she does, with a stiletto shoe to the head.
The suit includes a white poly/viscose blend jacket and slacks, size 0 from Anne Klein, and a hot pink camisole, small, by Cosabella Camisoled.
But wait! There's more! The auction features both the clean white suit, and the bloodied version after Sarah kills Miss Suzuki.
A preview of the auction is online now; bidding starts tomorrow. Click here to visit Screenbid.