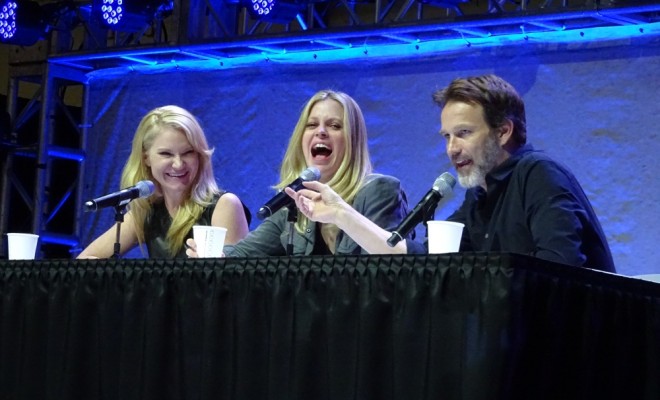 PHOTOS: Stephen Moyer, Kristin Bauer Van Straten & Tara Buck at Comikaze {UPDATED}
|
True Blood alumni Stephen Moyer, Kristin Bauer van Straten and Tara Buck attended Stan Lee's Comikaze on Saturday, November 1, taking the main stage to talk about the end of True Blood and what they're doing next. Our correspondent, Roz, was on the scene to take photos to share.
Most of the questions came from fans via the WEEV app, including the status of the True Blood musical – "the musical still isn't for sure, but someone's working on it," Roz reported. Kristin talked about returning to ABC's Once Upon a Time as Maleficent, Stephen shared a little about working on the movie Killing Jesus in Morocco (thus the beard), and Tara mentioned working on a project in Vancouver.
Updated 11.03.14: Roz sent in her panel report for us. Enjoy!
* The three cast members were glad to see each other again, even if they've seen each other at conventions and have seen/heard some fan reactions. Stephen still hasn't watched the final season because HBO Go doesn't work abroad, but that does mean that he's been a bit more divorced from it. Tara was glad to hear that so many fans were happy for Ginger finally sleeping with Eric.  However the show being over means that the actors need to find new jobs.
* Stephen's new job [Killing Jesus] has him growing a beard, with a bit more salt than he wanted to remember (and maybe he'll get a job as Father Christmas at Bloomingdale's). Three films about Jesus and the disciples were filming in Morocco at the same time, so there were names for all the different versions of Jesus – "bouncy Jesus", "skinny Jesus" and "method Jesus".
*Kristin is still doing all of her work with animal rights and she's about to start back up on Once Upon a Time.
After that the cast answered a few questions from Weev. The first was about how their lives have changed since the show ended. Kristin is more well rested; Stephen is greyer. Kristin cried when thinking about the end of the show (and Stephen pointed out that this is normal), and how that meant she wasn't as near her old castmates. Tara said that it's sad to leave that True Blood family, but that they all hope to have something similar on another project. That lead to Stephen mentioning how guest stars and minor characters would all say how happy and jovial the cast was at all times.
*The second question asked about the status of a spin-off or a musical, in the line of New Blood. Stephen talked a bit about the work he and composer Nathan Barr worked on a few songs for Bill and that the songs have Alan and Charlene's support. Stephen wants a percentage of the cut if it happens but doesn't know much else about the status.
*Another fan asked about each actor's favorite season. Tara said season seven because she had an amazing time on every single scene she did. Kristin couldn't choose between the season when her face rotted [season 4] or season seven. Stephen went on to say that the first season had a magic quality to it that made it so special.
*A fan said how important they found The Trevor Project PSAs and Kristin said it was a powerful day to shoot it.
*Lastly a fan asked if they missed the show and the answer was heartfelt. If the show were still in production they'd be gearing up to go back to shoot at the beginning of December or January, so to Stephen it won't feel over until then. They all have seen each other a few times, but the reality of not being back together at that time will make everyone miss the show and what it meant for them. For us too.