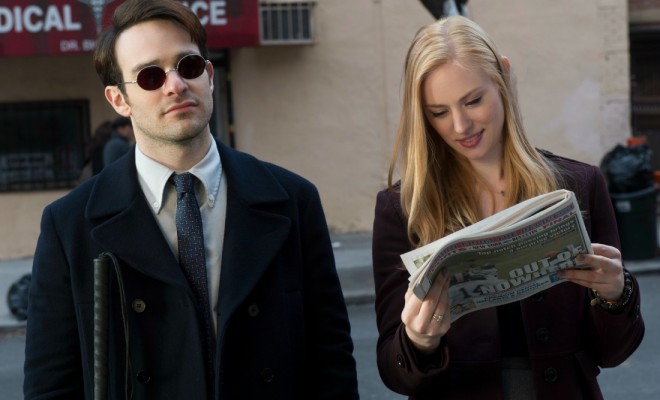 Deborah Ann Woll's DAREDEVIL Premieres Today!
|
Deborah Ann Woll's next big project, Daredevil, debuts today on Netflix. This reboot of the series in the Marvel Cinematic Universe is part of the comic book company's over-arching strategy that spans movie theaters, networks (Agents of S.H.I.E.L.D. on ABC), and now the streaming service.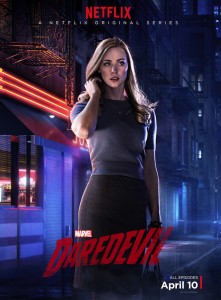 Unlike the PG-13 Guardians of the Galaxy or The Avengers and the safe-for-primetime-TV S.H.I.E.L.D., Daredevil is darker, grittier, and more violent, which is partly what appeals to Deb.
"My boyfriend is a huge comic book reader, grew up reading them," she told IGN. "And I like the idea that now there are these great Marvel franchises that are good for everyone, but it's nice to make something that's really just for grownups and something that can be a little more niche. We can be really specific about our storytelling. I like that we can open that up a little bit with these street-level stories."
Deb was a little unsure about taking on the role at first, she tells Canada's Bill Harris:
In Marvel's Daredevil, the first time we see Woll's character Karen Page, her hands are covered in blood. And of course, Woll is best known to TV audiences for her role as Jessica Hamby in True Blood.

"I spent basically all of my 20s on True Blood, and the idea of maybe spending all of my 30s on Daredevil made me pause," said the 30-year-old Woll, whose new series debuts Friday, April 10, on Netflix.

"As much as I respect the companies that are making it, and I respect the story – Daredevil is such an interesting take on the superhero idea – I had just come off seven years in a series. The idea of jumping right back into another one was a little daunting, especially when Karen in the (Daredevil) comic books – as well as the other stories that have been made about her so far – is a little undefined.

"I didn't really know what they were going to do with her this time around."

So Woll got on the phone.

"I spoke with Jeph Loeb (one of the executive producers) and he very generously talked to me about what the plans were for Karen," Woll recalled. "He said it was going to be dark but blending in some very realistic elements.

"He basically convinced me on the phone, and after that I just said, 'All right, let's see if we can make it happen.' "
In the video below, Deb talks to IGN about her character, Karen Page, and how her character on the series follows the comics.
Read more of IGN's terrific piece on the series, with lots of quotes from Deb here.
Read more of Bill Harris' interview with Deb here.
The first season of Daredevil is now streaming on Netflix.