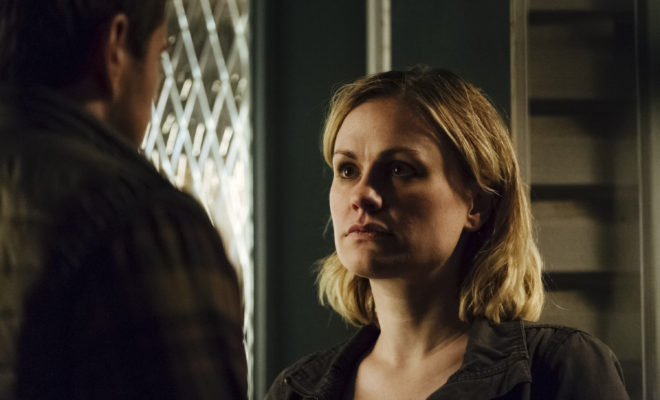 True Blood Cast Update: Paquin's Series to Air on WGN, Manganiello's Batman Future & More
|
A new season of television and movies is upon us, which means more opportunities to watch the True Blood cast. In this first part of our update, we'll catch up on some news from the past few weeks. The next update will contain photos, previews, and information about several upcoming projects.
Anna Paquin
WGN America announced that they will air Anna's eight-episode mystery series Bellevue in "early 2018". The show aired in Canada last winter/spring and was deemed "strange", "eerie", and "edgy". Anna's performance is a stand out according to critics with John Doyle of The Globe and Mail writing: "Paquin is gloriously good as the pragmatic but messed-up Annie, a woman determined to rise above the misery in her life no matter how haunted she feels at times. She plays Annie with a fierce purpose that sometimes keeps the overheated engine of the convoluted drama on track."
Stephen Moyer
Stephen's new ITV series Safe House premiered in the UK on September 7 to generally good reviews from critics, and terrified reactions from fans. In the series, rebooting from the first season after Christopher Eccleston chose not to return, Stephen plays former detective Tom Brook, a brand new character, and the series has relocated from the Lake District to Wales. Here, Tom hears about a brutal kidnapping and becomes convinced that a killer he once investigated – the Crow – has reared his ugly head again. The victim's family is moved to an official police safe house run by Tom and his partner Sam (Zoe Tapper). But that's not the end of it.
Safe House airs Thursdays at 9PM on ITV.
Joe Manganiello
Joe made headlines last fall with the news that he would play Deathstroke in the new Batman movie. Unfortunately the status of that movie is now uncertain and, when asked, Joe has not been able to confirm or deny his continued participation in The Batman. In the same interview, Joe talks about his love of "all things dragon, elf, dwarf, wizard and fantasy." He teamed up with True Blood co-star Deborah Ann Woll for Force Grey: Lost City of Omu, a Dungeons & Dragons quest played live on Twitch with fellow celebrity RPGers Dylan Sprouse and Brian Posehn.
Deborah Ann Woll
In addition to playing Dungeons & Dragons with Joe Manganiello, Deb reprised her Daredevil character, Karen Page, in Netflix's The Defenders series, which premiered August 18. She will also appear as Karen in The Punisher, premiering on Netflix later this year.
Carrie Preston
Carrie had a great summer co-starring in the critically acclaimed Claws on TNT. Set in South Florida, Claws follows the rise of five diverse and treacherous manicurists working at the Nail Artisan of Manatee County salon, where there is a lot more going on than silk wraps and pedicures. The show has been renewed for a second season. Season 1 is available for streaming on TNTDrama.com.
Carrie returns to Georgia to headline the Theatre Macon benefit on September 30. It will be a family affair as Carrie's husband Michael Emerson, her brother, John Preston, and his wife, Elisabeth Preston, will also appear. Buy tickets here.
Alexander Skarsgard
And finally, Emmy nominee Alexander Skarsgard stepped out last week to support younger brother Bill Skarsgard at the premiere of IT (Bill plays Pennywise in what looks to be a career-making performance). Alex and brother Gustaf had some fun on the red carpet, pretending to be starstruck by Bill who managed to keep his cool through it all. See the photos here. And of course tune in to the Emmy Awards telecast Sunday, September 17 on CBS to see if Alex wins his first Emmy!