True Blood Season 6 Spoiler Guide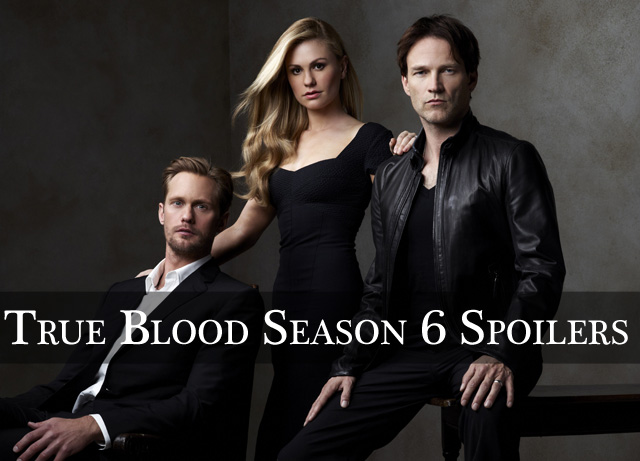 As soon as True Blood season 5 finished airing on HBO via DirecTV, we began collecting news and spoilers for season 6. Our curated (and confirmed) information about the new season of True Blood is organized for you right here. Be sure to bookmark this page to stay up to date on True Blood season 6, premiering June 16, 2013.
True Blood Season 6 Episodes
[table id=1 /]
Dates to Know
Production on True Blood season 6 began January 7, 2013. Production began later than usual to accommodate Anna Paquin's pregnancy.
True Blood season 5 is now available on DVD and Blu-ray.
True Blood season 6  premiered at 9/8c Sunday, June 16, 2013 on HBO.
Plot Points
The season will pick up right where it left off.
In a bonus scene on HBO GO, Jason mentions Warlow and it's obvious that Nora knows something about Warlow. (Read full description.)
"Who is Warlow?" will be a major part of the season, along with whatever is going on with Jason. ("Save Yourself" Inside the Episode)
Bill's reincarnation as whatever he is now will be a major storyline. ("Save Yourself" Inside the Episode)
Pam and Tara will be an item, at least in the beginning. (TVLine interview with Alan Ball)
The Governor of Louisiana, Truman Burell, is waging a war against vampires.
Niall, a distant fae relative of Sookie and Jason, will have a prominent role.
Who's Returning?
Characters who are confirmed for season 6 include:
Sookie, Bill, Eric, Alcide, Lafayette, Arlene, Terry, Jessica, Sam, Jason, Pam, Tara, Holly, Andy, Nora, Maurella, Luna, Steve Newlin, Sarah Newlin, Lilith, Emma, Martha, Jackson, Rikki
New Cast Members
True Blood Season 6 Videos
(click to see each video)
Bonus scene from after the season 5 finale (August 2012)
Season 6 teaser (March 2013)
Waiting Sucks: Jason (April 2013)
Waiting Sucks: Alcide (April 2013)
Waiting Sucks: Eric (April 2013)
Official trailer for season 6 (May 2013)