True Blood Season 7 Spoiler Guide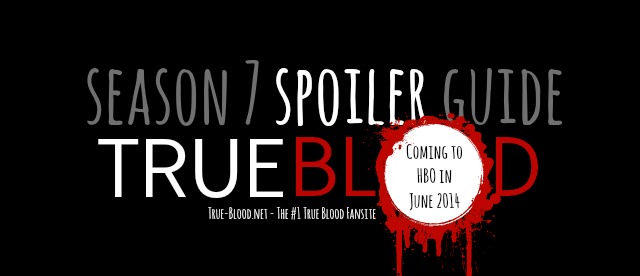 As soon as True Blood season 6 wrapped, we began collecting news and spoilers for season 7. Our curated (and confirmed) information about the new season of True Blood is organized for you right here. Be sure to bookmark this page to stay up to date on True Blood season 7, premiering June 22, 2014.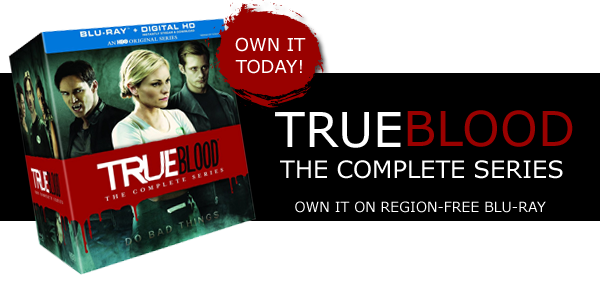 Dates to Know
Season 7 Filming Begins: Production on True Blood season 7 began Monday, January 6, 2014.
Season 6 DVD Release: True Blood season 6 will be available on DVD, Blu-ray, and iTunes in June 3, 2014. [Pre-order]
Season 7 Premiere:  The final season of True Blood premiered Sunday, June 22 at 9/8c on HBO and Monday, June 23 in Australia. In the UK the premiere is set for July 7 at 9pm on FOX UK. We do not have premiere dates for other countries at this time.
Confirmed: This will be the final season of True Blood.
Plot Points
The action will be centered in Bon Temps.
Humans and uninfected vampires have to work together to fight the Hep V infected vampires. (Buckner)
Humans and vampires will be forced into relationships in order to protect each other from the Hep V-infected vampires. "For every human a vampire; for every vampire a human." (Buckner)
Sookie and Alcide will still be together when the season begins. (Buckner)
There will be a Sookie-Alcide-Bill triangle. (Buckner)
Bill will get a reset and seek forgiveness. (Buckner)
Lettie Mae did not poison/infect Tara with Hep V. (Buckner)
Eric will be back as a series regular, but won't be "suddenly alive and well" in the season premiere. Pam may be the one to find him and nurse him back to health. (Buckner)
Who's Returning?
Characters who are confirmed for season 7 include:
Adilyn, Alcide, Andy, Arlene, Bill, Eric (confirmed 08.20.13),  Holly, James, Jason, Jessica, Lafayette, Lettie Mae,  Nicole, Pam, Sam, Sookie, Tara, Violet, Willa
Characters we're 99.9% sure will be back for season 7 include:
Niall (confirmed 05.23.14)
New Cast Members
True Blood Season 7 Episodes
True Blood Season 7 Videos
(click to see each video)
Graveyard Teaser – 4.03.14
HBO Spring 2014 Teaser – 4.07.14
First Full True Blood Season 7 Preview – 4.20.14
First True Blood Season 7 Trailer – 5.17.14